Memo Safe (v3.25)
NOTE: Memo Safe has known stability issues with Palm OS 5.0 and higher. While you can still download and use Memo Safe, we do not recommend it for newer Palm OS devices.

Parlez-vous franšais ? Cliquez ici !


Sprechen sie deutsch? Drücken sie hier!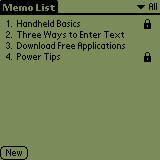 Now includes Spell Checker and Thesaurus support with add-on components from DDH Software!
A 100% compatible replacement for the built in Memo Pad application with powerful security and encryption!
Memo Safe reads and writes the same memo records as the built in Memo application. It has every feature of the original Memo Pad utility AND includes easy-to-use memo security/encryption. Exciting features include: Beaming support on Palm III or higher, Find support, user configuration and a low price ($7!).
Need more reasons to buy Memo Safe? Here are more cool features:
Integrated Spell Checker and Thesaurus using add-on components from DDH Software. Spell check and correct your memos as you edit them, without leaving Memo Safe.
Includes a Viewer program for viewing encrypted memos on your PC (Microsoft Windows only). Decrypt memos inside Outlook or the PC Memo Pad utility!
100% compatibility with Memo Pad. Every feature available in Memo Pad is supported in Memo Safe.
Easy-to-use memo security. All encrypted memo headings are displayed and you only have to enter your password once for each Memo Safe session.
Reliable and secure memo encryption using the SAFER-SK public domain block-cipher. Memos are encrypted in plain text format for easy backup and handling.
Single program works under Palm OS 2.0 and higher. On 3.0 or higher, beaming memos is supported.
Correct Find support that searches the decrypted text if you have entered the password. If you are not in Memo Safe, encrypted memos are ignored.
Many user preferences, including hidden password entry, separate passwords for each memo, and save encryption password, numeric pinpad password entry.
Automatic memo backup feature; if a memo gets corrupted outside of Memo Safe, you can restore to the last edited version!
A French language version of Memo Safe is available.
A German language version of Memo Safe is available.
Purchase
OK! So you've tried Memo Safe and want to register. Get a registration code INSTANTLY for only $7! Click below to use our secure online order form (English version only).

When you register Memo Safe, you will receive a special registration code to enter into the program. You do not have to download a different version of the software.
Registered users receive free updates... forever!
Note: The French and German versions are separate programs that must be purchased separately. Click the links in the prior sentence to purchase these products.
Download
The shareware version of Memo Safe is fully functional, and completely free! Until you purchase a registration code, you will be reminded occasionally to register the program.
Palm Memo Safe and Windows Memo Viewer:
Palm Memo Safe only:
Reviews
Over 10,000 satisfied users can't be wrong! Find out for yourself why users everywhere rate Memo Safe as the most reliable, professional, feature-rich secure memo application for the Palm Pilot. ZDNet gives Memo Safe 5 out of 5 stars:
"Integration is outstanding...If you store sensitive material in your Memo Pad, consider this excellent program to keep your data safe."
Here are some more comments from users:
"This application is terrific. Small, lightweight, takes over the Memo application's functions beautifully. What a gem for $7.00! Finally, I have a general way of saving sensitive information on the Palm." - P. Alamo

"As a counsellor I use this software all day every day and I love it... I can't say enough about this product and it's developer" - R. Matthews

"This is a great way to have a secure memo that is backed up to outlook...Love it" - B. Farrell

"I think this is a great product. It is easy to use... the piece of mind I get is well worth the small fee you charge" - J. Poulin

"I depend on memosafe to protect hundreds of memos on my palm III." - J. Collins

"I really like having the ability to decrypt on my PC, for regular use and as a backup to the palm." - W. Nardone

"MemoSafe is an excellent replacement for the built-in MemoPad application... it is seamless and secure, without being an obstacle. I highly recommend this software." - G. Bentz
Documentation
Click here to view the Memo Safe documentation (text file).
Corporate Volume Licensing Program
Memo Safe is available to corporations and companies for bulk purchases. A customized registration system is supplied to IT administrators to simplify the process of distributing registration codes. This program is available to purchasers of 25 or more license registrations. Please contact us is you would like more information about our Corporate Volume Licensing program.