Blackjack Expert for Pocket PC (V 2.01)
Click here for our Palm OS version
Click here for our Windows version

Play Blackjack with advanced casino options AND learn to count cards at the same time! Blackjack Expert teaches you card counting techniques while playing against the computer.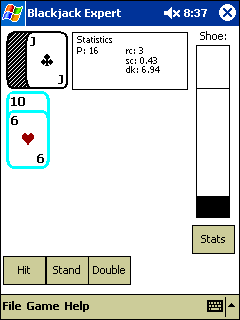 Blackjack Expert is a game simulator and testing tool combined in one easy-to-use program. As you play against the computer, your decisions are tested for correctness: actions, index plays, bet sizes, and insurance. The software comes with advanced casino options not seen in other Blackjack programs: splitting,number of decks, insurance, doubling after splits, dealer hits/stand on soft 17, ace re-splitting, and doubling limits. Whether you're just looking for a great Blackjack game or looking to learn or practice Card Counting techniques, Blackjack Expert is the fastest way to improve your game. Card Counting can give you a statistical edge over the casino so that you can actually make money playing Blackjack.
Blackjack Expert is made to be used with Blackjack Counter, our advanced drillmaster and editor for Blackjack Card Counting systems. When both programs are installed, all of the count systems, action tables, and index sets in Blackjack Counter can be selected for testing in Blackjack Expert. Click here to download a free shareware copy of Blackjack Counter.
Features
The display and user interface have been carefully designed by Blackjack professionals to include all the information you need:
Splitting up to three hands
On-screen statistics, such as run and true count, bets, visual discard pile, and player hand values
Shoe and long term statistics accumulation to assess your performance over time
Complete online documentation available in every window
Full betting support
Many advanced casino options are available in Blackjack Expert:
1 to 8 deck shoes
Allow/disallow double after splits (DAS, noDAS)
Dealer hits/stand on soft 17 (H17, S17)
Early surrender
Resplitting of aces
Configurable shoe penetration (1/2 to 3/4).
Doubling restrictions (9, 10, or 11).
When it comes to learning and practicing Card Counting in Blackjack, nothing beats Blackjack Expert for advanced features and ease of use:
Test Basic Strategy plays
Test Index play deviations based on the count
Test betting levels against the count system
Test for Insurance, based on the count
Blackjack Counter and Blackjack Expert support the most advanced card counting systems:
Preprogrammed with five of the most popular count systems
View, edit and create your own count systems
Supports expert-level attributes such as: index plays, insurance values, betting increments, fractional counts, IRC, and multi-level counts
'Setup Wizard' to quickly and easily configure the program for your favorite casino rules and count system.
Purchase
OK! So you've tried Blackjack Expert for Pocket PC and want to register.
If you have not registered Blackjack Counter, then you will want to purchased our discounted bundle of both products for $50 (normally $70). Unless you are only using Blackjack Expert as a game, without any card counting features, you will need to purchase registration codes for both products.
If you already are a registered user of Blackjack Counter, then you only need to register Blackjack Expert for $35.
Download
The shareware version of Blackjack Expert is fully functional, and completely free! Until you purchase a registration code, you will be reminded to register, and the program will occasionally reset to the state when you first installed it.
Once you download this installation, simply run the exe on your Windows desktop computer. Follow the installation prompts that will install the program to your Pocket PC device. Our programs are thoroughly scanned for viruses before publication.
Need to install directly to your Pocket PC device (Over the Air)? Click here for download instructions for users that do not synchronize their device with a Windows desktop computer.
Device support
This download will work with all PocketPC devices (ARM, MIPS and SH3 processors) running WinCE version 3.0 or higher. Click here for full details and instructions for determining if your device is supported.